How are Kitchen Wands created?
Our new, improved source of individually handcrafted beech wood spoons comes via a protected, managed forest in Europe. Once in Canada, they are charmed with a laser engraver. Each Kitchen Wand is dipped in a bath of grape seed oil and melted beeswax which brings out the grain and deepens the tone of the wood. After being hand polished the last steps are labeling and packing for shipping.
What do the designs mean?
Each Kitchen Wand has a theme or story and that information is available here. On the Kitchen Wand tags is another link to an information only website so that your customers can also see the history of each design.
Is there anything on the handle? Each handle comes engraved with "My Kitchen Wand".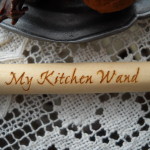 Are Kitchen Wands usable?
These 13 inch spoons are designed to be used and that is why the images are right way up when held in the hand of the cook.
Will the design come off?
The image is burned into the wood and will not "come off". Over time though, as the patina of use developes, the image may soften.
Are Kitchen Wands dishwasher safe?
The heat of the dishwasher is not recommended for any wood products, including Kitchen Wands. Washing in warm water after use and wiping dry will extend the life of the product.
How are Kitchen Wands cared for?
A regular wipe with a food safe oil will extend the life of a Kitchen Wand by adding a layer of moisturizing protection to the wood.
How long will shipping take?
All shipping is from Abbotsford, Canada and during regular times of the year, expect travel time to be about a week via Canada Post. During December that time will increase.
Going through customs
All parcels shipped to locations outside of Canada will go through customs before arriving at their destination. We have no control over any delays at customs.