Our focus is the creation of well priced handcrafted kitchen wares for your business. A hint of whimsy and a serious recognition of the value of good intention included.
A minimum order when purchasing is 18 Kitchen Wands or any combination of items valued at $140.00CAD before shipping.
We are based in British Columbia, Canada and all pricing on this website is in Canadian dollars.

For potions of all sorts ( from chicken soup or bath bombs to honey lemon nettle tea or cascade berry jam ), our beech wood Kitchen Wands are the ideal way to focus the love your customers have to share with others. As these are natural products, each has a unique variation of colour, grain and shape.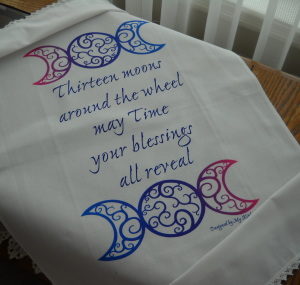 Tea towels are an integral part of any kitchen, from keeping the drafts off rising bread to washing up. Our designs are printed on 100% cotton and this one is also used regularly as a wall hanging.
Add a decorative touch with a hand painted, laser etched kitchen plaque, perfectly sized for a window sill, cookbook shelf or other cozy kitchen corner.
And with the mention of cookbook shelves, "Cookies Around the Wheel" makes a lovely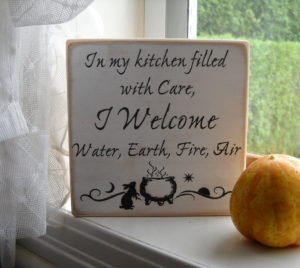 addition to any magical kitchen, a selection of delicious recipes that tell tales of the sun, its journey around the earth and some of the reasons we celebrate the way we do.
So whether your customers consider themselves Kitchen Witches or just have a good sense of adventure, products from Kitchen Wands are ideal for businesses with a bent towards cooking, food, ceremony and all things magical. Practically perfect in every way for holidays gifts, showers, housewarmings or handfastings; celebrations of all sorts or just because.
Click here or on the Shop button above and see what's in store.
"I literally gasped when I saw them…They are so super adorable that I can't wait to get them"

Tee, NY, USA